4 Peat?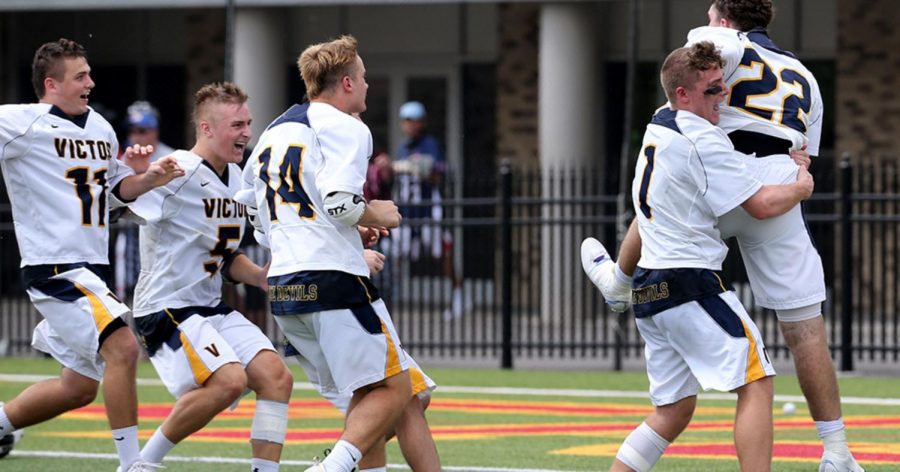 Cameron Yost, Writer
March 28, 2018
For the past 3 three years, Victor Boys Lacrosse has been an absolute powerhouse in not only Section V, but the State of New York. Victor Lacrosse is known for grinding during practices and especially games. All the hard work during the off season and in season work has been proven to pay off with three state titles. From the success in the past years the team has a huge target on their back this year and every team wants a piece of them.
Victor's 2018 Lacrosse team started practices March 5th and the energy level and intensity during these practices are unreal. The motto this year is J.U.I.C.E. which stands for "Join Us In Creating Energy." The coaches and players remind each other about J.U.I.C.E. and how the energy level at every practice needs to be high.
I asked junior defenseman Matt Potter how he feels about J.U.I.C.E. and he said, "I love it, it reminds us to stay focused and play with lots of energy."
The boys are hungry for the season to start with a huge first game. This is being held at Pinnacle on March 29th against Jamesville-DeWitt. Who defeated Victor last year with a heartbreaking 9-8 loss.
I asked Senior attackman Sam Lambert if he feels the team is ready to take on JD again, he said, "We're ready for them and we can't wait to get out on the field."
With the many returning starters from last year the Blue Devils have a very good shot at continuing this and possibly getting a fourth state title.
I asked junior defenseman Riley Hauf how he thought the team was looking so far and he replied, "It's looking real good, there's lots of energy on the field and were ready for the season to start."
The past three years Victor Boys Lacrosse has won sectionals and states and hope to continue that legacy this year.