Free Books from PTSA
Mr. Caughlin, Advisor
February 13, 2019
Hang on for a minute...we're trying to find some more stories you might like.
For the first time at the Senior High, there was a free book giveaway Wednesday, February 13th in the Cafeteria.
In the past, the Victor PTSA (Parent Teacher Student Association) has hosted these giveaways at the elementary and intermediate schools, but this year they were able to provide books at the high school level.
The books are donated to the PTSA, and were free to students. They included hard-covers and soft-covers, with titles ranging from mystery series 39 Clues and action series like Michael Vey, to informational Eyewitness books on the Jungle, Graphic Novels and even some audiobooks.
The event was organized and hosted by parents Mrs. Ward and Mrs. Prescott, and Sophomore Sydney Prescott helped students pick books.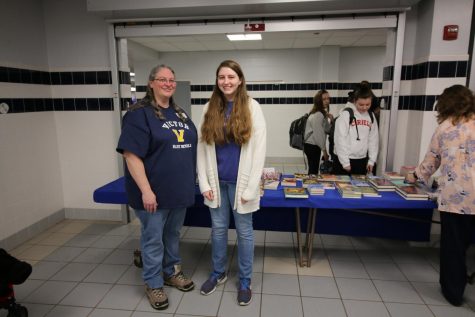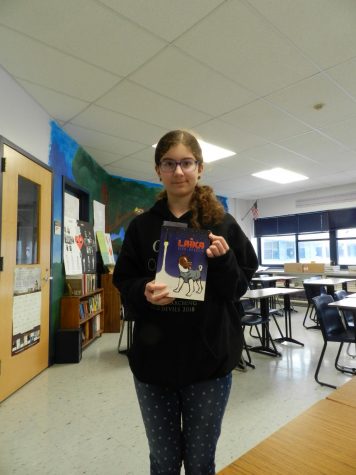 Freshman Carolyn Reilly, an avid reader, picked up a copy of Laika, which is a graphic novel telling the story
of the famous first dog in space. She had this to say: "I really liked that they were giving out books because I like reading."
Carolyn said she chose her graphic novel on Laika because she "love[s] astrophysics!"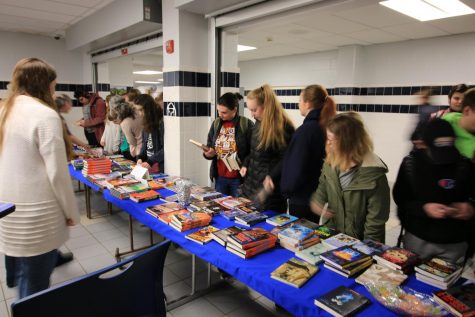 Senior Grace Piscani, often seen reading in the hallways, stopped by to look at the selection as well.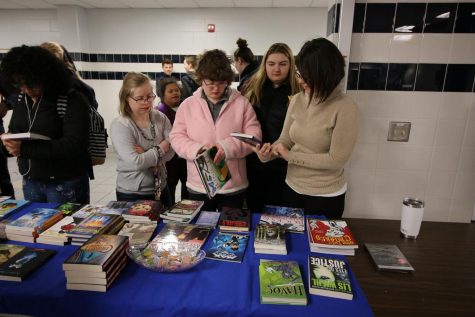 Our own writers, Isabel Newton and Teresa Flugel inspected the options with their teacher Mrs. Arnitz, and they grabbed an Eyewitness informational science book.
Hopefully the PTSA can turn this into a yearly tradition!