Jake and Alex Hype Up Homecoming
Hang on for a minute...we're trying to find some more stories you might like.
This year's homecoming pep leaders are fan favorites across the board.  The class of 2020's iconic duo strutted their stuff in this year's homecoming pep rally on September 27, 2019.  I sat down with pep leaders Jake Estabrooks and Alex Goodrich to get their insight on what it takes to get over 1,400 teens excited about homecoming.  
The two shared that they became aware of the position when it was introduced to them by classmates.  Alex said, "Georgia [Mowers] (student council president) came up to me and said, 'Do you want to be the pep leader?' and I said, 'What's that?'"
Mrs. Page (student council adviser) informed me that, when selecting pep leaders, executive board student council looks for students that "exhibit positive sportsmanship and school spirit."   
Jake said, "I think Ijeoma [Nwugwo] (class president) asked me if I wanted to do it."  When asked what responsibilities come with being a pep leader the two were instructed to "stay positive" and "be appropriate".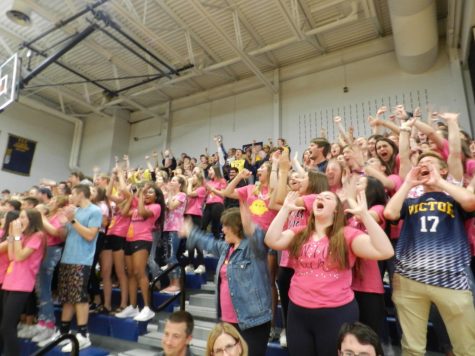 They both included they were worried about the second one: appropriateness.  "We thought we might get too into it and swear." Thankfully, they didn't. The charismatic duo stressed the concept of "energy" and that they didn't realize how much planning was required.  "You can't just wing it."  
When asked their favorite part of being pep leaders, both agreed they enjoy "controlling the crowd's energy."  While watching the pep rally I was reminded of the spunky and iconic awards show hosts you see on TV.  The charisma and chemistry these two share is the perfect combo for a spirited homecoming pep rally.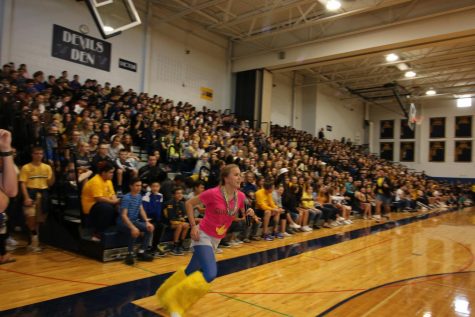 These two don't stop at being school spirit junkies.  Jake is involved in Ski Team and DECA, and Alex takes part in yearbook committee, indoor track, and student council.  I also asked how they chose their pep rally outfits. "I think we got carried away at Party City." The spark these two share for entertaining makes the perfect duo for a spirit filled homecoming week.