This Night Was "Burnin' Up" – The Jonas Brothers: Remember This Tour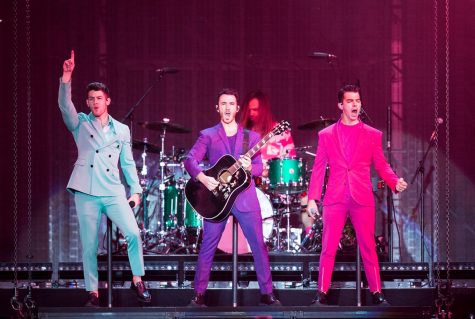 Flashback: It's a Friday night in 2010. You listen to your Taylor Swift, Selena Gomez, or One Direction CD in the car and you come home, turn Disney Channel on, and sing along to "Play My Music" and "This is Me" from Camp Rock. About a month ago, I relived these simple and joyous times at the Darien Lake stop of the "Jonas Brothers: Remember This Tour!".
About two weeks before the concert, my sister asked me if I wanted to go with her, my cousin, and some friends. I am not a crazed Jonas Brothers fan, I was more of a High School Musical kid than a Camp Rock kid, but I love concerts, liked them as a kid, and I'll do anything that I think might be a good time, so I said yes. Honestly, I can say that this was one of the best last minute decisions that I have ever made.
Going in, I expected a crowd full of mostly millennials and older teenagers who were Jonas Brothers fans as kids. I guessed correctly, and the concert was well targeted towards that audience, making for a high-energy and nostalgic night. With the whole audience trying to escape life by soaking up their childhood memories, everyone was high energy and pumped for Jo Bros' performance.
On the way there, we listened to Jonas Brothers, High School Musical, and some of our other old Disney Channel favorites. My cousin said she "just [knew] it [was] going to be the best thing ever" and her friend said she was "living out her childhood dream". Needless to say, the bar was set high for this concert.
Fortunately, the Jonas Brothers delivered, and leaped over the high bar we set. With a mix of their newer music, their originals, and their solo songs, it was a great set list. Some personal favorites of mine to hear were "Year 3000" and "Burnin' Up", which were bangers from 2006 and 2008. The energy was through the roof as everyone jumped and screamed along. I was singing "Year 3000" for days after. Of course their recent hits, "Sucker", "What a Man Gotta Do", and "Cool" were also major crowd-pleasers.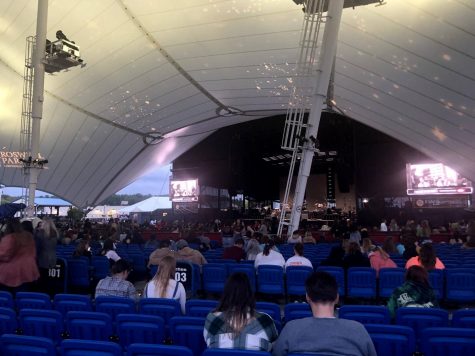 I credit a lot of the nostalgia to the second opening act, who went on right before the Jonas Brothers, Kelsea Ballerini. 
About halfway through her numbers, she played a video from when she was a teenager, before her career took off, just like any other kid in the 2000s. This home video showed her saying she loved the Jonas Brothers, and she followed it up by talking about how she never thought she would be there, opening for them. I was brought to tears seeing how far she had come and how proud she was of her career.
The most nostalgic part of the night followed this. Kelsea Ballerini followed up her video by playing part of "Teardrops on my Guitar" by Taylor Swift, and parts of other popular 2000s songs. As the entire audience screamed along and transported back to their childhood, it was clear that this was the perfect flashback that the Millenial and Gen Z audience needed.
I was not a Kelsea Ballerini fan before the concert, but her heartfelt performance left me loving her as a person. She stopped in between her songs and talked to the audience, as most performers do, but she did it in such a genuine way that I felt like I was getting to know her. She was very excited to be performing and that showed through. She had a great stage presence and was a wonderful, very likeable performer. 
The first thing I noticed about her performance was the graphics. Her act opened with a video going through a smoky scene that revealed Kelsea at the end, as she walked on stage. Throughout her performance, they projected more designs, including butterfly wings, and a silhouette of her hometown. I was very impressed with the creativity and quality of these as they really brought the performance to life. 
When we first got to the concert, in pouring rain, we got our food and overpriced merchandise, took pictures, and the first opening singer started. We weren't expecting two openers, so we were very surprised by Jordan McGraw, the son of Dr. Phil and a pathetic so-called "performer".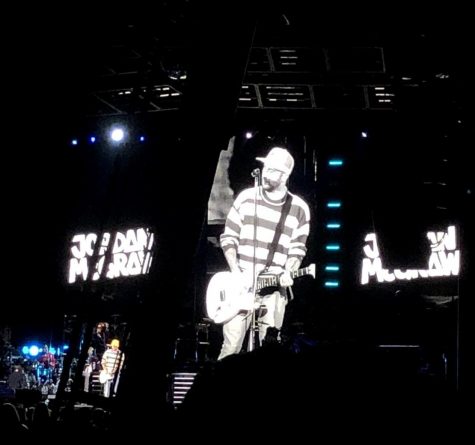 His act was full of bad jokes and unsuccessful attempts to relate to teenagers, on top of unmemorable music. I assume he only ended up on this tour because of his father, because I don't know what Jonas Brothers producer would choose this man as a positive addition to the night. McGraw did, however, make the audience crave the Jonas Brothers even more by wanting him off the stage.
The one bright spot in his act was the keyboard player, who bopped along to the music in his sunglasses and smiled like he was having the best time of his life.
Though Mcgraw's performance was… interesting to witness, I had an incredible night going back to the year TWO thousand… and eight with the Jonas Brothers, and surprisingly Kelsea Ballerini.