Ferona: an exciting dining experience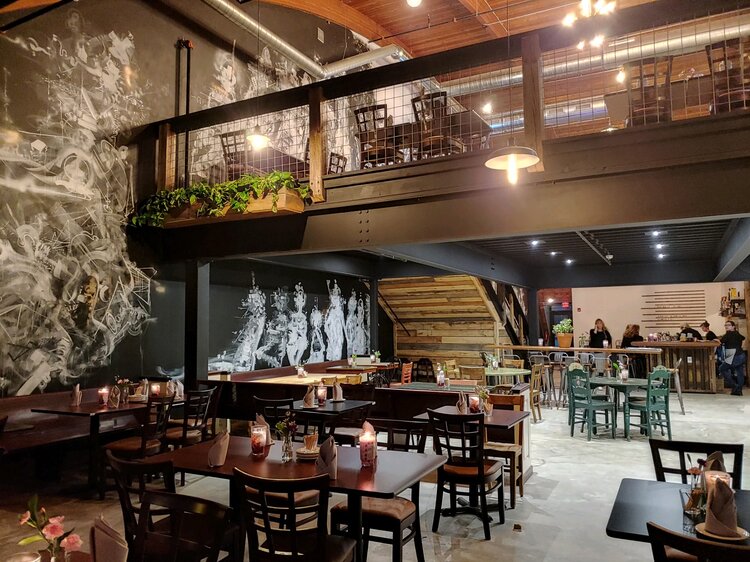 Advisor, Advisor
February 3, 2020
Squeezed between a dance studio and a crossfit gym, on the backside of a Tom Wahl's, is the last place I expected to discover fine cuisine. Lacking either a sign on the street or even on the building, Ferona is Canandaigua's newest, and arguably most creative, restaurant.
The sister restaurant of Rio Tomatlan, both are owned by Juan Guevara, "Ferona" is a portmanteau of the first letters of names of his children.
Only open since late December, Ferona is located in the back of the Tom Wahl's strip mall on Rt. 332, across from Mayflowers. Customers can find ample parking behind the building, and inside a spacious two story restaurant and bar, featuring an inviting menu of tapas-style dining.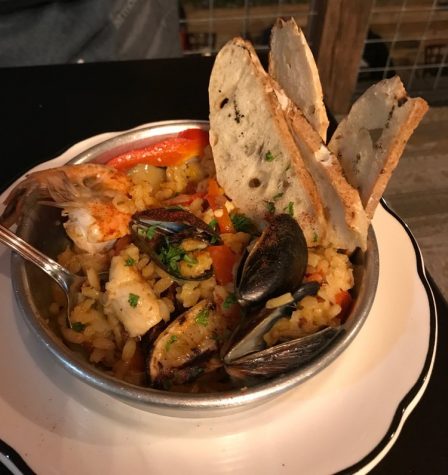 For those unfamiliar, tapas is a Spanish approach to dining that highlights small plates and shareable options. Ferona takes this approach and runs with it. We were coached through our ordering process by a professional and knowledgeable waitress, Ashley, who helped us throughout the meal.
Ashley explained that the menu options were designed for two people, so our table of six should order accordingly, though she did say they can scale up any entree. We also had multiple opportunities to order throughout the meal, and the food came in well-timed waves, so we always had something to try.
The interior of Ferona balances the food well. It is lively, with two story graffiti-style chalk art, rustic wood features, and a beautiful vaulted wooden ceiling, all of which is balanced by more industrial metal accents, I-beams, mesh, and a cement floor.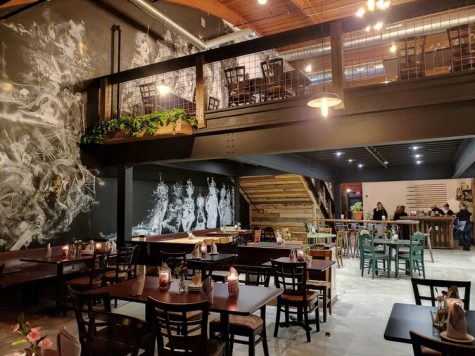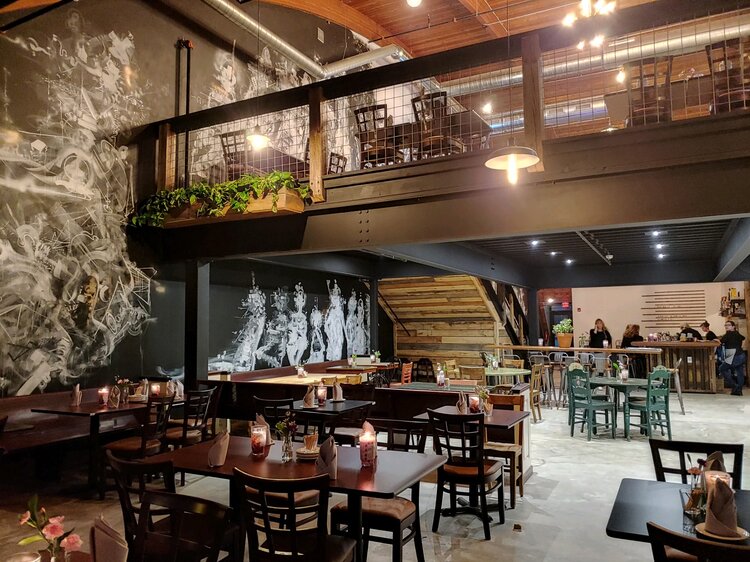 The base menu was brief, but impressive, and the full page of daily features helped augment the selections. We ordered roasted almonds, olives, and smoked, tinned mussels as our starters. Looking back, we should have held off on the almonds and olives, because they were garnish on many later dishes.
We were bowled over by both the whitefish flatbread, a special, and the standard mushroom flatbread. Also delicious were the filet of salmon over wilted greens and arborio rice, cheesy croquettes, and of course the paella. 
Many of the options at Ferona come served on "tiles" and function as charcuterie-style sample platters. We ordered the Panache tile, and were delighted with the options.
The only item that fell flat for us was the falafel, which felt a little heavy and oily, though they still got gobbled up.
All in all, the flavors were astoundingly well-balanced and nothing clashed with anything else on the plate. Portion sizes were adequate, and we all agreed that we felt sated, but not stuffed after sharing the meal.
One minor criticism would be for some utensil options beyond spearing sticks. Although most of the food was easy to eat with your fingers, some would have been easier and more pleasant with a fork or spoon. We did receive utensils after asking, but it was too late in the meal to have a real impact.
There is no question for us that we will be back with more friends to explore the menu further. It is a fresh, interactive dining experience, with both delicious food and a delightful ambiance.