VVT Brings Home the Block
The 2020 tennis season marked the third consecutive year that the Victor Varsity Tennis team has been on the hunt for the sectional block. After losing a close match last year in the finals to Fairport, we set our eye on the prize to win the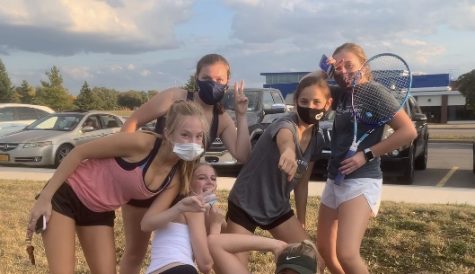 sectional championship. This was not a simple journey, but we knew hours of practice and dedication was crucial to our success.
Daily practices consisted of match play, situational drills, and strategic activities. Due to the shortened season, we understood the value of the limited court time given. Before VVT knew it, the team stepped out on the court to play their first match in the season against Webster.
VVT performed extremely well throughout the season, beating every team in their section and only taking 3 losses. This landed us in the 1 seed for sectionals. This was a comfortable place to be heading into the competition with, but anything could happen (as seen in previous years). We all were aware that it was necessary to hold up to our ranking and play hard.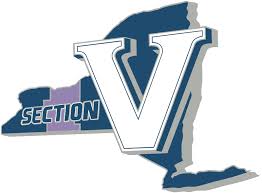 In Section V A1 quarter finals Victor swept Gates-Chili 7-0 (rank 8). Although this was the expected result, it gave us  confidence heading into the semi-final match against Webster Schroeder (rank 5). We ended up winning 6-1 and were off into the finals against Fairport for the second year in a row.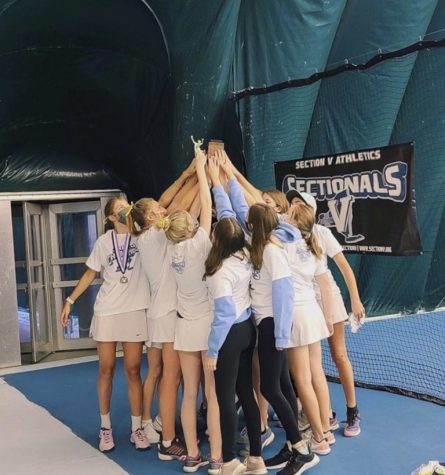 In the blink of an eye, VVT walked onto the Mendon Racquet Club courts wondering if we would come out victorious. It was an emotional night for most of the team, eight seniors experienced their last match as high school athletes. With most of the matches resulting in nail biting tiebreakers, we beat Fairport 4-3 in the sectional finals.
It was such an unreal feeling to celebrate with your best friends and achieve a goal that the team we have striven towards. The bus ride home was filled with cheering and loud music, all while still trying to comprehend the win. Finally the goal of being sectional champions was achieved.
 The tennis program has demonstrated the importance of a team bond and how it can elevate the overall playing level. Both on and off the court VVT continues to support each other and demonstrate their overall strong team dynamic.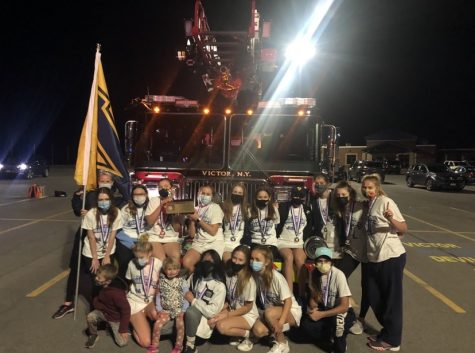 Our coach Krystina Barnum (KB) was the main reason the we made it so far in the season. She emphasizes the importance of practice but also how positive reinforcement can change your mentality while playing. KB's favorite word was "grind", she said that it represented the persistence it takes to become successful and the importance of not giving up.
With the Victor Varsity Tennis team's dedication and effective coaching they closed the season with a record of 9-3 and were class A1 sectional champions.