An insight on coaching track and field with Coach Donroe
Social Studies teacher, head indoor track and field coach, and girls varsity track and field coach at Victor senior high, Austin Donroe sat down with me and discussed his ways of coaching and his experiences as a runner.
Coach Donroe has been coaching outdoor track at Victor for 5 years and indoor for 4 years and has had some great successes in his experience as a track coach. 
Having Mr.Donroe as a track and field coach I was personally interested in learning more about his perspective and why he uses some techniques as a coach.
Coach Donroe started by discussing his favorite part of coaching, "Seeing not just how they changed and improved and found themselves as athletes, but just how they developed as people. Just becoming good people and being able to see that growth is cool because you get to have a different relationship as a coach with an athlete than as a teacher with a student".
When asking about what he believed was one of his most successful moments as a coach I was surprised to hear that it wasn't just his team winning sectionals but instead, his excitement to see the dedication of his runners. "To see everyone who chose to come back, come back and truly enjoy what they were doing, knowing they were going to be running on turf and they weren't going to run their fastest times but they were doing it because they really just love the sport. That's the goal, you want people to enjoy what they are doing".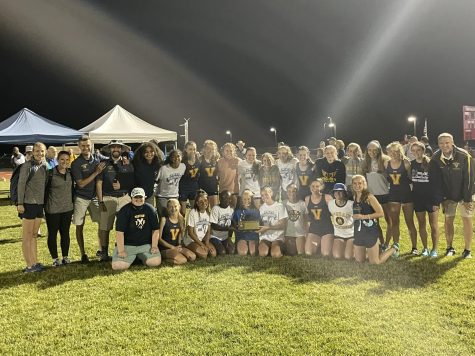 "From seventh grade all the way throughout college I was a sprinter" he mentioned. "I was always a short sprinter so I would really focus on the 100 or 200 for outdoor track, and then for indoor track the 60 meter and the 300 meter".
Coach Donroe went to Geneseo and continued his journey with track there. I then asked Mr.Donroe what he believed were the most difficult events in Varsity track. He talked about how the 800 meter and 400-meter hurdles were the most physically demanding events.
A lot of athletes tend to wonder how their coach is keeping up to date with new and improved training methods and techniques, so I asked Coach Donroe how he does it. He explained to me how he got a certification from USA track and field so he took some classes for sprints and some field events.
 "Social media is pretty big and so I chose to follow the right people and I can see on Instagram and Twitter what some coaches that I model my training plans off of and what they do with their athletes and I can find ways to match it with the high school level". He also discussed how he worked with fellow coaches in the area.
Are you interested in running track at Victor senior high? Well, Coach Donroe and I talked about how athletes interested in running indoor track can join the after-school OTA's or reach out to another athlete that is already on the team.
OTA's are a great way to improve and achieve your goals as a runner because the coaches are given the opportunity to work with athletes closer. Instead of trying to focus on individual athletes when the whole team is present (ranging from about 30-40 people), the coach can focus on one or more people at OTA's which average from about 5-15people.
I really enjoyed talking with Mr.Donroe and along with Mr.Donroe, very excited for the upcoming indoor season!