A look into Mr. Merritt's Sports Life
When it comes to the Bills, Mr. Merritt is one of the biggest fans so I interviewed him about the team he cherishes. 
When I asked which sports teams he followed he said "Just the Bills!" Like many people in Victor Mr. Merritt has been a Bills fan for a long time and grew to love them because his parents were massive Bills fans as well.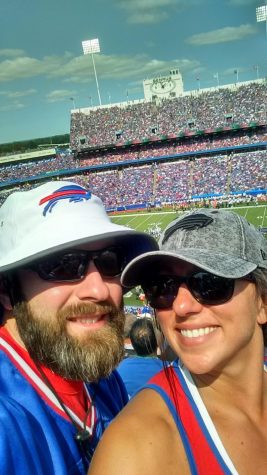 He also told an interesting story where "Back in the 90s they would do fundraisers for local fire departments and things like that where Buffalo Bills would come play basketball against the fire department and as a kid I was able to watch Jim Kelly and Andre Reed and Cornelius Bennet and Steve Trask Dunk basketball at a gym."
He went into his experience seeing all these Bills legends playing basketball. "I think it might have been Trent Hall, the center where I was small enough he picked me up and allowed me to dunk a basketball."
Everybody wants to have a good role model to themselves and for their kids, Don Bebe is Mr. Merritt's Role Model."Buffalo played against the Cowboys in the Superbowl. I don't know which loss it was but they were getting blown out and there was a fumble pickup and they were getting smoked. Leon Lett from the Cowboys started sprinting down the field celebrating. Don Bebe came out of nowhere and caught him from behind and knocked the ball out of his hand. They were getting their butts kicked but that man never gave up, I love that guy."
Players he wanted to see in a Bills Uniform he gave me 2 players Zach Ertz and Taysom Hill but also said that "They had to be team players."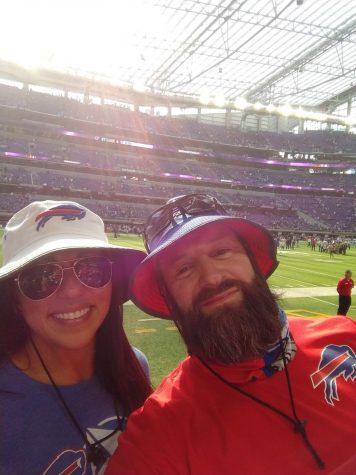 The Bills help him connect with his students, especially students that are fellow Bills fans "Certainly, it puts everyone on the same side." 
When it comes to Victor sports Mr. Merritt is the coach for modified wrestling for grades 7th and 8th. He also announces and works the clock for the boys and girls volleyball and soccer teams. 
Victor sports is known for their success year after year. Anything changing in the foreseeable future he said "No, success breeds success." 
I was looking forward to asking if he has noticed a trend of immaturity going on in school sports as the years go on. He said he hasn't personally but he also said "We are all accountable because what one person does reflects the whole team." 
Finally I asked him if he thinks Victor prioritizes sports like many people think they do, He believes that "Victor has a good balance in but due to the level of success our sports programs have they tend to see the light of day, although our arts and music programs are great sports will be what we see more because it's what's right in front of our faces."