Nashville's Hottest Hits Victor
Nashville Hot Chicken is a restaurant located just doors down from Otto's Tomotto's in Phoenix Plaza. The restaurant specializes in Nashville-style chicken sandwiches but sells additional entrees on their menu such as Hot Fry'd Fish, Southern Style Meatloaf, and Chicken Fry'd Steak.
The star item of the restaurant, the Nashville Style Chicken Sandwich, is sliced cayenne chicken served on a brioche bun with coleslaw and pickle chips. The recipe originated in Nashville, Tennessee at a place calledPrince's Hot Chicken Shack. The founder's partner had actually doused the chicken in cayenne pepper as a punishment, but he loved it so much he made it an official recipe.
As you might expect, the restaurant is Nashville-themed. Rustic posters give the restaurant an authentic country feel, and the dining area is surrounded by decorative acoustic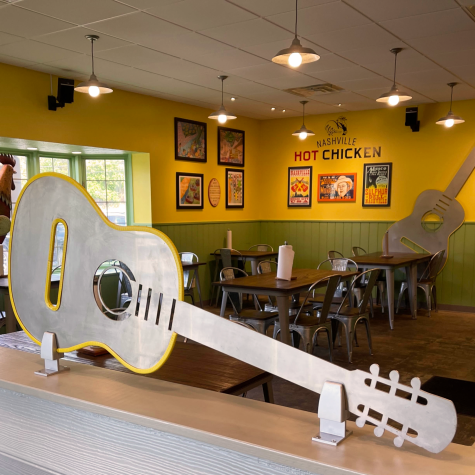 guitars which blend together to cement the rich culture of Nashville. Walking in, I immediately picked up on the intoxicating aroma of the spices and was excited to eat.
The restaurant's dedication to authenticity doesn't end with the aesthetic, they are just as dedicated to their cayenne pepper blend. Entrees feature 5 spice levels, Plain, Mild, Medium, Hot, and Stupid Hot. The sides include crinkle-cut fries, creamy coleslaw, mashed potatoes, mac & cheese, and southern greens. The concise menu offers a choice for every level of spice tolerance without having an overwhelming amount of choices.
I ordered the Stupid Hot sandwich with a side of macaroni and a biscuit, the sandwich did not disappoint. It's often difficult to balance spice and flavor, but this restaurant had no issues with it. The kick from the cayenne balances out the coleslaw while still being enough to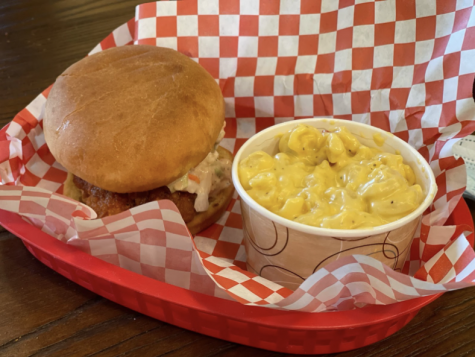 be enjoyed by spice enthusiasts. The chicken was satisfyingly crispy and complimented the brioche bun.
The only issue I had with the food was the overabundance of cheese in the macaroni. I generally appreciate macaroni & cheese, but the amount in the dish was personally too much for me. 
I would not hesitate to recommend this restaurant to any chicken fan or spice enthusiast. The menu is strong and the owners stick to their strengths. Just remember not to underestimate the heat!