Boys Basketball – A Season In Review
The 2021-2022 season of the Victor Boys Varsity was been nothing shy of success as they finished with a record of 18-1 with top seed in Section 5 Monroe County League but with that success they still manage to uphold their representation of Victor as a whole. Mr. Roberts stated that he "expects them to behave but also be role model citizens in Victor."'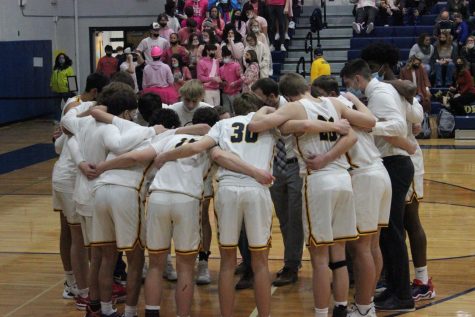 After the "Covid Season" people didn't know what was going on with sports. The regulations were a big question for the boys and the fans. They aren't back to normal, we can go to the games but you have to wear masks and social distancing was never made clear but from the large student sections and our crowds being packed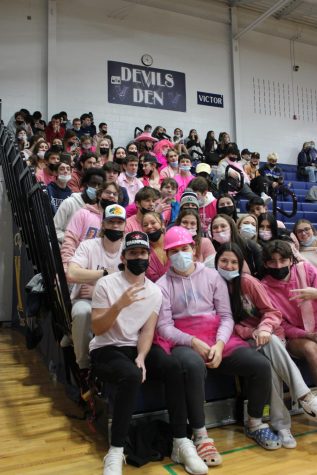 Basketball was a go and with that the boys were ready. After some practice they were ready to play and with their first game looming there were many questions on what the team was going to look like. As if there were any doubts, the boys showed everyone that they are the real deal with their first game vs Fayetteville-Manlius they won 65-49. With that they continued to rampage through schools starting with a 12 game winning streak coming to an end with a loss to Pittsford Mendon. 
Talking with Coach Roberts about the team's success he told me that "the record doesn't matter and the goals don't change the goal is to show up to practice and get better every day" Even when they had the success they have had he believes "the team doesn't get a big head when they win and they don't get dragged down when they lose"
Basketball is a team sport but it is no secret that some players get more recognition than others. I asked Coach Roberts if he would like to shout out any specific players and he said he'd like to give recognition to the 5 seniors: Lucas Cleary, Phil Nwugwo, Jonah Whittier, Rohan Chitre, and Luis Rivera. 
Obviously there is skill on this team so how do they maintain the chemistry on the court well according to Mr. Roberts "All our guys are friends with each other. They hang out off the court. I see them in the hallways together on the court. We really emphasize communication to get 5 guys together but really the guys on our bench talking and cheating and we really preach putting the team first."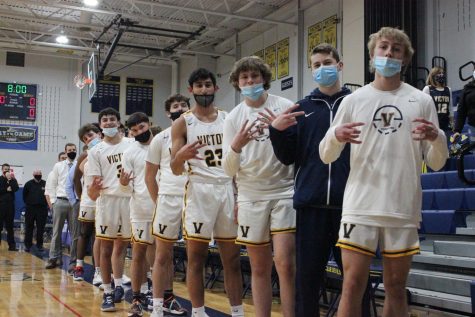 Varsity Boys Basketball season wrapped up with an impressive win over Webster Schroeder  and they will be making a run for sectionals which starts next week but due to their very impressive season they got a bye week and they hosted Rush Henrieta who they previously played and blew out 70-37. 
The game was played on February 25th and with high expectations the pressure seemed to be too much for the boys to handle. With the stands full of spectators the game started and shockingly stayed close at half the score stood at 31-26 Rush. As the 3rd quarter started it was shocking to see the low seeded Rush overwhelmingly took over and had a 15 point lead going into the 4th quarter. With the season on the line this was the boys last chance and it looked like they took control as they stepped up and crucial shots late from the likes of Cam Ryan and a drawn foul from Garret Clar the score stood at 66-63. After a rollercoaster of emotions for this team they couldn't finish the job as Rush held on and won with a final score 64-72. 
With the season over a few of the boys won awards. Cam Ryan is All Monroe 2nd Team and Phil Nwugwo and Nick Leonard both are on the All Monroe First Team. Phil also is Co-Player of the Year and will be continuing his athletic and academic career at Daemen College.