Oliver Tree Lassos In Outstanding Performance in the Country Capital of the USA
Oliver Tree is one of the fastest growing indie artists on the scene. He just recently went on his second headline tour for his newest album, Cowboy Tears, and I decided to go to the show in Nashville, Tennessee. 
On March 22nd he performed at the Montage Music Hall alongside other up and coming artists Sueco and 347aidan.
I heard about the tour from my cousin who decided to go to a show two weeks before mine. I have not gone to many concerts and my mom's birthday was around the same time so I decided to take her with me.
I knew the show was sold out but I wasn't expecting it to be as crowded as it was. I was feeling claustrophobic an hour before the first act even came out
It was a standing room only venue, which means there wasn't seating and if you wanted to be in the front row you had to be there early. Luckily I was able to get there a couple hours before the doors opened so I had the opportunity to be right next to the stage.
The show started before I even got inside because we could hear all of them taking turns practicing the songs they were going to perform for sound check. And I got to see the two artists before Oliver Tree come out and say hi to the line.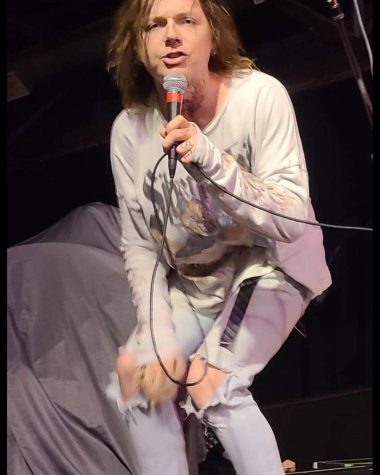 The opening act, Sueco, came out and put on a stellar start. He seemed to draw instant attention to me and during his fourth song, Drunk Dial, I was able to go on stage with him. During his performance he broke an electric guitar that he used, signed it, and gave it to me.
After Sueco was 347aidan. With him only being one year older than me I was excited to see him and how he'd do. He blew my expectations out of the water from the start.
Then we moved onto the finale of the show Oliver Tree. He played a total of 18 songs and had a lot of gimmicks during his performance. It was extremely entertaining and I would definitely go to one of his shows if I get the chance again.
I also can't downplay his pianist, Casey Mattson. He was just as involved in all of the outfit switches and acting as Oliver was.
While Oliver Tree put on a great show I think a majority of the props needs to go to his two openers who killed it. I can't wait for them to headline their own tour so I can see them more.