The Bee Movie: Lax Edition
The Victor Boys lacrosse team is known for its dominance in recent years bringing home a plethora of state and sectional championships, but few know about their rambunctious sideline antics.
The team calls the sideline squad, "The Bees". The Bees have been "buzzing" for years, cheering on the victorious squad for multiple years with a wide variety of celebrations. 
The leader of The Bees, the "queen bee", Cody Menuier was elected by virtue of his seniority. He leads them, organizing and directing to maximize the energy circulating around the team. 
He had this to say of The Bees, "…There's nothing better than watching Paxton Marshall shoot bar down and looking to the sidelines to watch a human pyramid." 
The human pyramid, a stunt where 6 people arranged themself in a pyramidal structure, displaying the true supremacy of Victor Lacrosse, is just one of the favorites of the group.
Asher Erwin, another member stated that the bench press, where players set the scene as if someone was hitting a new PR on the bench press, was his favorite.
These are only some of the many festivities on display at every game of Victor Boys Lacrosse, come to a game and you'll see jousting, beast, executioner, and golf.
Despite The Bees being beloved by many, there have been attempts to exterminate The Bees as of recently.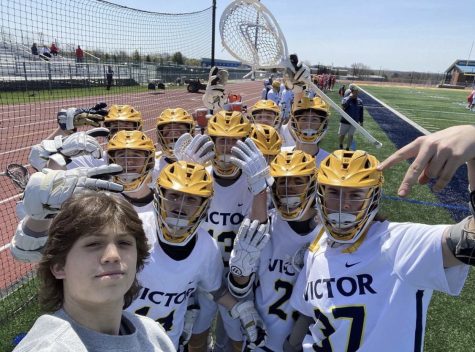 In a blowout win against Jamesville Dewitt in Syracuse, The Bees were told that the referees had received a letter from the state, banning the practice of sideline celebrations. 
Bees member, Sean McCarthy says, "when people criticize the bees, they're also criticizing everybody else, because you need The Bees to help you win." 
Nonetheless, the very next game they were back in action, giving the idea that no such letter ever existed. 
The Bees bring an exciting and vibrant aspect to the game, buzzing and barking at opposing players when they bring the ball close to the sidelines.
A member of the squad, Ben Gensiejewski says "The bees are like their own team, within another team. Though the two aren't disconnected at all, they (The Bees and the starters) bring out the best in each other." 
The Bees highly suggest that those reading this come out and see the fantastic display of celebrations, and more importantly support to see the lacrosse team as a whole, as the boys enter their home stretch of the season, still yet to be defeated.