Mr. Morale & The Big Steppers: Kendrick Lamar's Most Honest Project Yet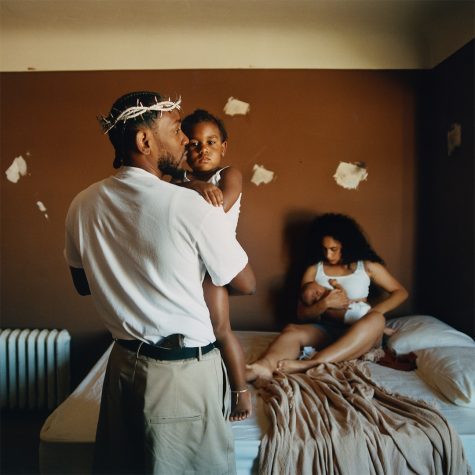 "I've been going through something."
Kendrick Lamar's long-awaited album Mr. Morale & The Big Steppers' opening words are an apt description of what is to be expected. The two-part album is extremely dense but can be summarized as Lamar's most introspective project yet. 
It has been 1,855 days since his last album and he reminds us on the opening track, "United in Grief." The track opens at a high intensity with skillful lyrics as Kendrick Lamar pursues therapy.
The album continues with trap beats as Lamar discusses his perspective on the pandemic and his relationships with various women. Suddenly, on the track "Die Hard" there is a stark change in sound. The beats become more soulful as Lamar details his insecurities and fears involving his relationship with his father and fears of opening up. 
This is where the key distinguishing characteristic of the album becomes clear: it is about Kendrick Lamar. It's not an album about the industry, culture, or gang violence. Lamar has developed a reputation for never making the same product twice, and this album is no exception.
The first disc of the album, The Big Steppers, closes with two connected tracks: "We Cry Together" featuring Taylor Paige and "Purple Hearts" with Summer Walker and Ghostface Killah. The former of the two tracks is a dramatic argument between a couple over a grimy beat. Both partners taunt and swear at each other but the song ends with them suddenly making up, which is likely Lamar's way of expressing the multiple dimensions of stereotypical toxic relationships.
The final track of Disc 1, "Purple Hearts" is about love and its absolute importance over everything else. This track is connected to "We Cry Together" through the exclamatory chorus that one needs to "shut up when love is talking." The commentary regarding love in "Purple Hearts" isn't particularly unique, but its story-building characteristics when combined with 'We Cry Together" are what makes it special.
Disc 2, Mr. Morale, begins with "Count Me Out." In this song, Lamar makes peace with the insecurities he struggled with on Disc 1. He proclaims that he loves when he is "counted out" on the chorus. He is no longer concerned with the fear of failure and states that he's learned to forgive himself a hundred times. The song ends with Lamar telling Miss Regrets, a manifestation of Lamar's poor decisions, to leave his house.
Continuing the trend of self-acceptance, in "Crown," Lamar repeats that he can't please everybody. Lamar has gained a reputation in rap for being a hero capable of consistently creating decade-defining albums, and this is his acceptance that he will never be that hyper-idealized version of himself that others see. 
"Savior" with Baby Keem and Sam Dew expands on the idea that no rapper is actually the savior or martyr of rap that they are perceived to be. This track hints at why Lamar wears a crown that resembles Jesus' Crown of Thorns, placed on his head during his crucifixion. In one album cover image, the crown is slanted and falling off. In another, the diamonds on the crown clearly contrast with the run-down look of the room Lamar is in.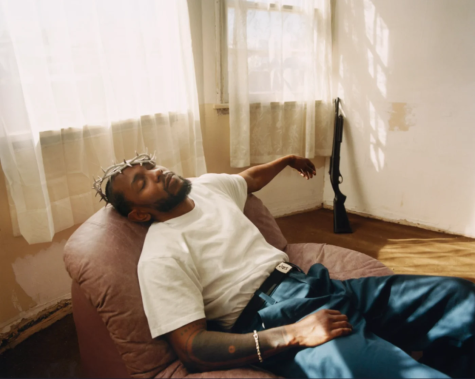 He raps, "Heavy is the head that chose to wear the crown." The reference to Shakespeare's Henry IV reflects the burden Lamar feels as he is idolized and subjected to increasingly unachievable expectations.
The final portion of the album combines storytelling, growth, and acceptance. "Auntie Diaries," is undoubtedly the most controversial track on the album and involves a young Lamar learning to accept his transgender cousin.
Lamar states that he has chosen humanity over religion and apologizes for his previous behavior as a child regarding gender and sexuality.  The instrumental of the track builds up at the end creating a massive sound that leaves an imprint on the listener.
 The next storytelling track, "Mother I Sober" is about the family trauma Lamar experienced. Lamar sets out to break a generational curse and his verse ends with a promise to set his family free from hatred and abuse.
"I choose me, I'm sorry."
The conclusion of the album, "Mirror" cements Lamar's change in priorities shifting from his career to his family. The pressure has Lamar overwhelmed and in the chorus, he apologetically repeats that from now on, he will be prioritizing his own needs. 
Although the track is framed like an apology, it is a proclamation of freedom from Lamar. He writes, "Sorry I didn't save the world, I was too busy buildin' mine again." Lamar's world is what matters the most to him, not expectations placed on him by the media or critics. He is done being portrayed as some kind of savior or flawless being.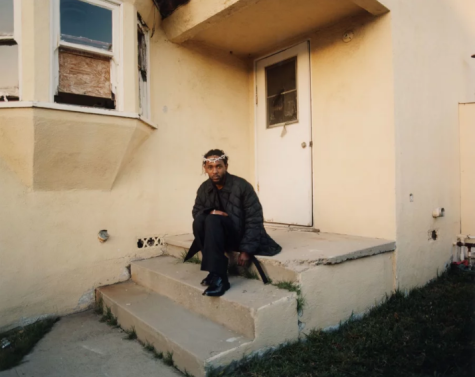 Mr. Morale & The Big Steppers' held its own under the immense expectations placed upon it. This album is an expression of growth for Kendrick Lamar, both sonically and as a person. Despite Lamar's upbringing and experience with a more Dr. Dre g-funk sound, he was not afraid to try new things as an artist and make risky production choices. This album is unforgettable and will establish a new precedent for what older artists are capable of if they choose to adapt to the new landscape of hip-hop.