Homecoming Blowout
It has been an amazing Homecoming Week for school spirit and it all culminated on Thursday where the Victor Blue Devils took on Penfield Patriots.
With it being Homecoming Week I was expecting a large student section, well the Devils Den was packed as you can see for yourself!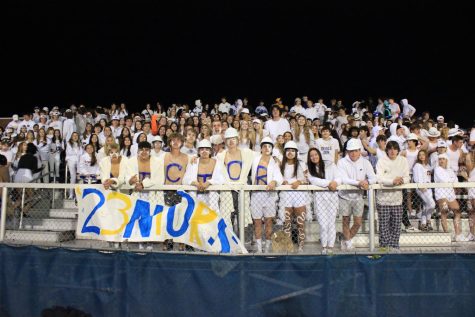 Although football had the biggest turnout it was not the only event going on. The Varsity Boys Soccer took on Brighton and won 1-0.
Girls Tennis had a huge sectional matchup and won 6-1.
The Swimming and Diving girls team took on Penfield and won with a score of 118-62, and unfortunately The Boys Volleyball team lost 0-3 to Spencerport.
With a great night for Victor before the game started they announced 3 athletes and 1 coach into the Athletic Hall of Fame as part of the Class of 2022. Athletes included Michelle Prong (Class of 2010), Kevin Suhr (1997) and Jay Vanderstyne (2004) and Coach Jim Haugh.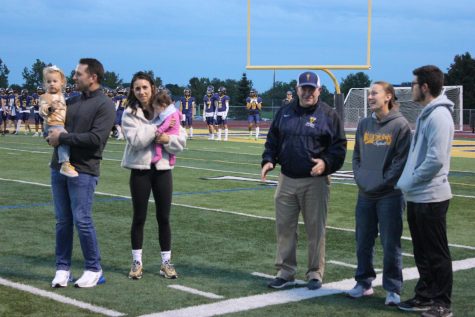 After the celebration both teams headed to the center of the field for the coin toss. Penfield won the toss and deferred which would give Victor the football to start the game.
The opening drive really set in what the rest of the game was gonna look like for the Blue Devils as they powered down the field with a 22 yard toss to Sam Gotham to take an early lead 7-0.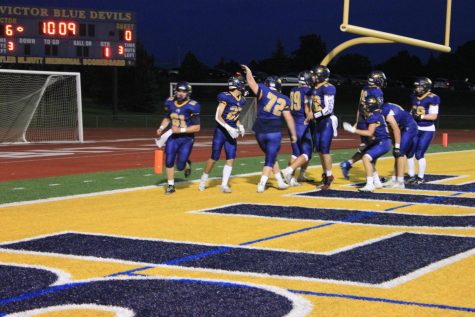 It did not take long for Victor to get the ball back as they force a fumble recovered by the Sam Ricci and taken to the Penfield's 15 yard line. Followed up with a QB sneak from Brady Robinson to score another TD leading 14-0.
After yet another stop as Penfield attempts to go for it on 4th and 1 stuffed which gives Victor another chance to score. Victor wasn't able to score on the drive as a interception was  thrown on 3rd down giving Penfield a chance to put points on the board.
Victor's defense would not let that happen tonight and force a 3 and out forcing the Patriots to punt in back to the Blue Devils who proceeded to drive down the field and score yet again with another QB sneak giving Brady his second TD of the night, score 21-0.
Unfortunately for Penfield, Victor wasn't gonna back down as the defense kept making stops and the offense continuing to put points on the board. Sam Gotham with a run up the middle giving him a pair of TD's as well, going to half with a score of 28-0.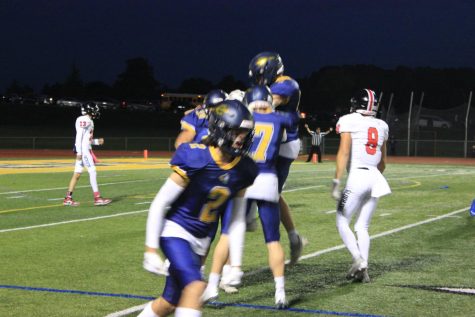 Coming back from halftime expecting some changes and adjustments from Penfield to rally and come back didn't work as Victor starts the half with yet another 3 and out giving them the ball a with a chance to end the game with half of it left to play and just like that a 24 yard TD toss to the right to fellow journalist CJ Palmiere as Victor runs away with the game with the score standing at 35-0.
Penfield finally was able to put up points late in the third quarter but it was instantly responded with a 68 yard TD from Terreque Davis. Penfield was able to score again but it was far too late to even attempt a comeback as they let the clock run down ending the game, Victor wins 41-14.
Our very own Tyler Ferraro was able to interview 3 players post game Brady Robinson, Sam Gotham, and CJ Palmiere which you can check out on our Instagram @the.victor.voice !!!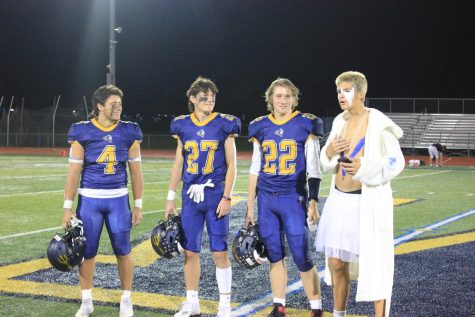 Game over and Victor moves 5-1 on the season, winning 5 straight and moves to prepare against Corning next Friday October 14th at home. It was a fantastic night but just because Homecoming Week is over doesn't mean our spirit is , make sure you show up and pack the den yet again next week.