Mrs. Brion, Mother of the Science Department
Every year Victor schools sees new faces, meets new people, and is met with new personalities. Whether it be students, custodians, teachers, or aides the school is constantly changing and evolving.
Though in the midst of constant evolution, what keeps Victor anchored are those who have been here for a while. These individuals have dedicated decades to the school and the principles it stands upon and soon Victor will be losing one of these beloved teachers. Mrs. Brion, a biology teacher to hundreds and a mentor to many more, will be retiring after a thirty-one-year tenure at the school. 
Although a lot of students have passed through her classroom, many don't truly know Mrs. Brion as a person, teacher, and colleague. 
Mrs. Brion's love for teaching began at a young age, grading papers for her mother, who also was a teacher. 
"I just always loved it, I love to learn, and explain things to people, I love students and kids, so I went into teaching." stated Mrs. Brion. 
Her love for biology also started in her youth, she said she "was always interested in nature and all of that and biology is my passion." 
Though for her and many more, her class isn't limited to biology, nor does she want it to be.
"I hope that they remember that I care about them, that it was a fun place to learn, it was challenging." Said Brion. Hundreds of students have passed through her classroom, whether it was for AP or Regents, many will say they agree with her. 
Emily Galewski, a current senior at Victor, said that Brion will "do anything to help them succeed." Ethan Adrid, another senior, had similar praise saying that "Mrs. Brion made a challenging class fun and exciting." Considering Mrs. Brion dedicates herself to the idea that anybody and everybody can learn, just at different rates, her students' answers were no surprise.     
While she is looking forward to retirement, more vacations, and not having to wake up early every morning to go into work, she spoke of how the emotion is bittersweet. She said she'll miss, "My kids, my students, and my colleagues."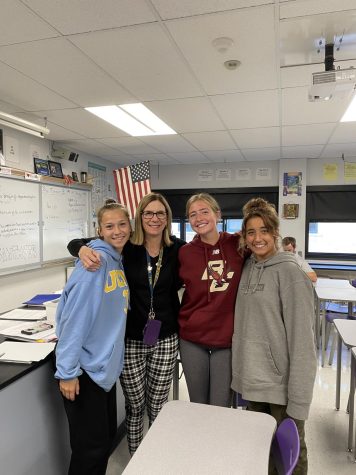 And to those she attributes much of her success to, of her colleagues she says "They helped me be the best I can be."
She went on to say, "…seeing the teachers I work with see the best in me, that made me want to work harder for everybody else." It's also safe to conclude that the feeling is more than reciprocated. 
Mrs Westbrook, the librarian in the High School, says that Mrs. Brion "always sets an example for what a good teacher should look like." 
Along with being a great teacher and mentor, the long tenured teacher is also loved for her passion and advocacy. 
"She's willing to go into battle for any of us," Said Mr. Porter, another biology teacher in the high school. Perhaps that's what we should remember most about Mrs. Brion. Not only is mentor, but she was willing to sacrifice herself in the pursuit of defending others. In the words of Mr. Thompson, "She's the hidden warrior always behind the scenes." 
Mrs. Brion will be missed dearly by all. She's a teacher who truly embodied what Victor stands for, someone who is a confidant and much more than just an instructor. Even to her last year, she still strives to make connections with her students, helping them to succeed in her class and in life. Her legacy will be carried on by those who come after her, especially Mrs. Stoutenberg who said "One of the best compliments I can receive is when my students say I remind them of her." 
I encourage all readers who haven't already, to go and make a connection with Mrs. Brion in her last year and to those that already have, to cherish her last year at Victor. To all, regardless of your connection with Mrs. Brion, remind yourself of her words when coming to school, "when things get bad, look for the good… and that in the end, the hard work is worth it."