Dear Reader, Listen to "Midnights"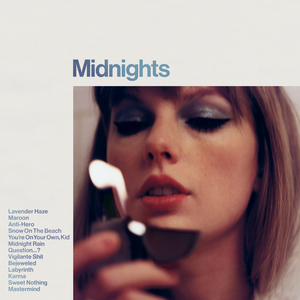 Arguably the most successful lyricist, songwriter, and female popstar of the 21st century, Taylor Swift, has released her long awaited tenth studio album, Midnights, on Friday, October 21st, 2022, at… you guessed it, midnight. The album consists of 13 songs, about relationships beginning, relationships ending, self-love, self doubt, and self reflection. 
Swift also told her fans that a surprise would be released at 3am, and being that she has released surprise albums and music videos in the past, fans were on the edge of their seats and many went on to stay up until that hour to be the first listeners of Midnights, 3am Edition, consisting of 9 more bonus songs. In this album review, I will be discussing the singles for this album, comparisons to her older albums, and my personal favorite songs.
The determined singles so far for Midnights are track number three, Anti-hero, and track number nine, Bejeweled. These two songs highlight two recurring themes mentioned before; self love and self doubt.
 Antihero is a song about the mind games that an individual plays with themselves, leading them to believe that they are the problem in every situation, and aligns pretty well with the quote, "You are your own worst enemy." 
On the contrary, Bejeweled is an upbeat song that Swift seems to write about herself, appreciating her own beauty and her ability to encapsulate her audience and the people around her. I think that the decision to make these two songs singles was an effective decision because of the fine line between their meanings. 
Many Swift fans (including myself) were expecting a vibe from this album that would be similar to that of her past two albums, Folklore and Evermore (both released in 2020), which consists of alternate, softer sounding, poetic, and thought provoking songs. However, Midnights is more of a happy medium of Lover (2019), Reputation (2017), and 1989 (2014).
 Many fans on Tiktok have made videos where they categorize certain songs from Midnights that could fit into Swift's past albums. For example, the romantic and carefree vibes from Karma are said to correlate nicely with the tracks on Lover. Some fans have even expressed disappointment that Swift hasn't remained on the soft and poetic side of her music, however, others argue that not all writing has to be super poetic in order to be impactful. 
My personal favorite songs on Midnights (in no particular order) are Anti-hero, Snow on the Beach (feat. Lana Del Rey), Maroon, and, The Great War. Each of these songs resonate with me in a different way that I really appreciate. I tend to do more overthinking than actual thinking, and Antihero shows me that I am not alone in my struggle with that. 
Snow on the Beach has an alluring, soft sound to it, and has lyrics that inspire finding beauty in unusual aspects (hence the title of the song). Lana Del Rey does an incredible job with her vocals, and although she has no verse of her own, her voice and lyricism are still prevalent in the song, and she did in fact assist in the writing of the song. 
Maroon does an incredible job of describing simple actions, such as blushing, as, "The blood rushed into my cheeks, so scarlet it was (Maroon)." Lastly, Swift describing her adversities as battles in The Great War is a clever choice, and the bridge displays her emotion beautifully.
Taylor Swift has also released tour dates, something she hasn't been able to do since 2019, and she named it The Eras Tour. Presale tickets have begun and fans are anxious to be able to experience Swift live before their desired seats are full. 
Midnights has been a uniting factor between "Swifties," after almost two years without a new album, and the excitement has been prevalent. Part of the reason why the songs resonate with the fans so much is because of Swift's vulnerability that has remained all throughout her "eras." 
Whether she's in her "country," "pop," or "alternate," era, she remains humble (for an A-list celebrity), and connected with her fans. It is reasonable to claim that she is the most successful female artist of this generation.