MSG is Harry's House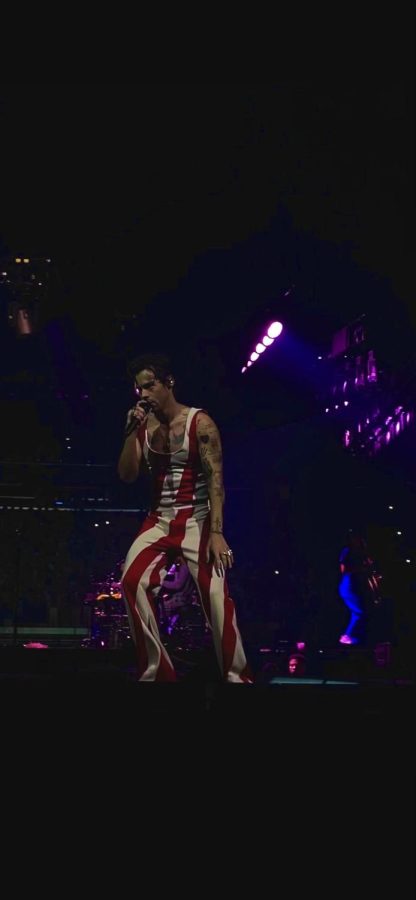 August 20th, Harry Styles began his 15-night stand at the Garden. MSG was transformed into a celebration for Harry Styles, with endless options for themed images. 
The venue was drenched in pastels and bright hues. The corridors were decorated with a giant sign reading "MSG is Harry's House" and a bench designed to seem like a subway with the same slogan. Although obviously overpriced, the merchandise was a variety of sweet pastels, I bought myself a 'Love Soup' yellow crew neck.
There wasn't a single aspect of MSG that Styles hadn't touched; the drink "Watermelon Sugar" was even themed after the smash song. While performing, Styles took advantage of the chance to promote significant social causes, encouraging audience members to register to vote early and support efforts to prevent gun violence. 
After the opening act Blood Orange, Styles ook the stage with a commanding presence rising up on a platform in the middle of the stage. 
He was dressed like a candy cane in a red and white striped jumpsuit. He immediately jumped into "Daydreaming" With its upbeat lyrics and catchy chorus, it got the entire crowd dancing and the applause was thunderous.                                                    
Styles made it clear right away that this performance would be very energetic and lively.
The first half of the show was mostly made up of songs from Styles' latest album, "Harry's House," apart from "Golden" and "Adore You," which are fan favorites from his previous album "Fine Line." Every song sounded even better live, which is not something I can say for other singers. In person, Styles' performance has a rawness and vulnerability that enhances the listening experience. 
The already heartfelt song "Matilda," which is about household struggles and finding personal connection, became even more compelling as it drove me to tears. The songs "Cinema" and "Keep Driving," which I had not appreciated enough initially when I heard them, were especially outstanding and have since become some of my absolute favorites. Every one of Styles' songs begs for movement, encouraging everyone to sing and dance, which creates an incredible energy in the room.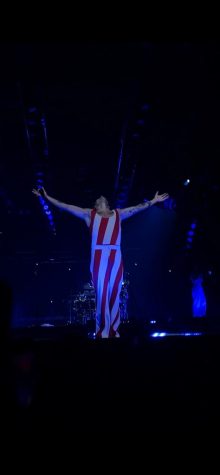 The crowd was the most excited during "What Makes You Beautiful," One Direction's most well-known song. It was good to see Styles refer to his musical beginnings in the band.  When the popular song started, the entire stadium erupted in unison, shaking the ground as everyone got up and started dancing.
The encore was one of my favorite parts of the show. All of the audience members knew there would be an encore following "Love of My Life" because Styles had yet to perform three of his biggest singles. Tears welled up in eyes when Styles came back on stage and performed "Sign of the Times". 
A variety of feelings, both joyous and sorrowful, were triggered by hearing it live. The concert's high point was when I was reminded of how strongly I feel about Styles' music. Styles concluded the concert on an upbeat note with a vibrant rendition of "As It Was" and "Kiwi".
The band is bursting with excitement, dancing and jumping while living the dream to the incredible guitar riffs and backup voices. He reunited with three of his bandmates from the prior tour. 
The band's lead duo, guitarist Mitch Rowland and drummer Sarah Jones, recently welcomed their first child. 
My particular favorite Pauli the PSM on percussion, who takes the stage with his dancing and amazing energy, the band also includes Niji Adeleye on keyboard, Elin Sandberg on bass guitar, and Nyoh on piano and vocals all of whom are so lovely.
In addition to being a gifted performer, Styles kept the audience interested. He responded to the numerous obscene signs that fans brought in and caught feather boas that were thrown from the pit. 
Even as he stood on stage surrounded by thousands of fans, many of whom would go to any lengths for him, Styles seemed incredibly human despite his enormous celebrity fortune, and success. He thanked the crowd several times, regularly expressing his appreciation for their support. At the close of the concert, concertgoers exited the theater feeling ecstatic after realizing they had seen their favorite perform live in a sea of colorful boas. They did so with smudged mascara eyes, frizzy hair, ringing ears, and squeaky voices.
Harry Styles, a 27-year-old rock-pop singer, will make you have an incredible time even if you haven't listened to all of his songs.