New Year, New Coach!!
Victor's Assistant track and field coach Robert Goodell moves to Head coach to start the 2023 indoor track and field season. After Austin Donroe who led victor to back to back sectional titles decides to step down in a shocking decision during a meeting with his team. New Victor track and field head coach Robert Goodell answered questions about his team goals for the 2022-2023 season.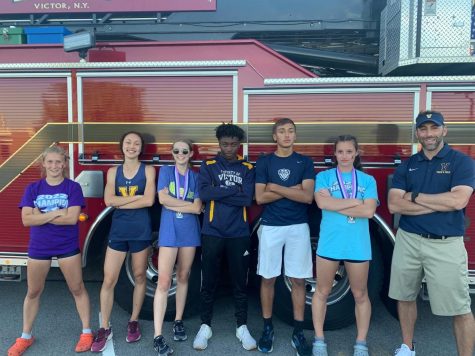 Question: 
What are the advantages of practicing inside during indoor season opposed to being outside?
Goodell:
The advantages to practicing inside during the indoor season is that it provides a comparable temperature to what we will be competing in at the colleges.  Being indoors also provides a safer set up during the colder months so athletes can wear lighter training clothes, keep muscles warm, take longer breaks without getting cold.  Our training equipment is also available to us indoors.
Question:
What are your team goals for both the boys and girls for indoor and outdoor?
Goodell:
My goals for both the boys and girls indoor/outdoor teams are as follows:
– Create more of a program concept by eliminating different structures between the indoor and outdoor seasons and boys/girls teams.  
– Increase the number of students involved in the track program from grades 7-12. 
– Continue to build a culture where all athletes have an opportunity to grow and succeed.
– Maintain and build on program success at the league and Section V level. 
Question:
Why is track a sport worth caring about when some runners participate in other sports?
Goodell:
Track and Field is worth caring about because it's one of the few sports that can include such a wide variety of different athletes.  With sub groups in our sport such as sprinting, distance running, jumping and throwing there is bound to be a good fit for all types of student athletes.  I also believe that track and field is a terrific sport to complement other sports where athletes need to have good strength, speed or endurance.  Nationally track and field is often a second sport for football and soccer players because of the benefits that come from the training.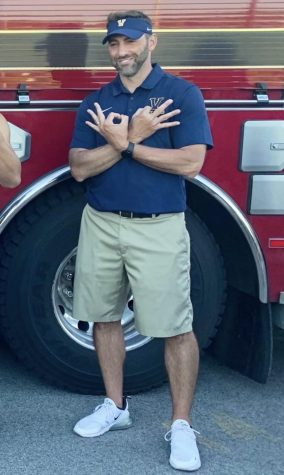 Question:
Who got you interested in track and why do you coach?
Goodell:
I became interested in track and field at a young age because my father was a former collegiate track athlete and high school track coach.  I am a former high school and college track athlete so coaching allows me to stay involved in the sport.  I enjoy coaching track because you get to know a lot of different types of athletes and watch them as they improve year after year.
Question:
Why should Victor athletes be interested in joining the track team?
Goodell:
I think the Victor athletes should be interested in joining track because it would give them an opportunity to challenge themselves physically in a different type of competitive setting, get them in great shape for their other sports and meet a lot of new people.
Question:
Why were you interested in coming to Victor as an Assistant Coach and also becoming the Head Coach the next season?
Goodell:
I was interested in coming to Victor because it was a program that I had a lot of respect for over the course of my 20 plus years of coaching. Coaching in Victor has given me an opportunity to work with great student athletes, be with my own two kids as they come up through the program and work for an athletic department that takes pride in a vision for growth. I had been a head coach of a successful program for 22 years prior to coming to Victor so it felt natural to want to continue in that same role and share my vision of program success here.