Monday Night Basketball Classic
With a strong start to the season, the Victor Boys Basketball team sat at 14-2 after winning 13 straight they hit a rough patch this past week losing 2 matchups after an undefeated tear. Unfortunately, there is always a reason for a loss and for this team it was injuries.
Nick Leonard and Griffen Hopkins both sat out against Webster Thomas with injuries leaving the team with 2 missing starters. The second loss to the season came against McQuaid this past Saturday even with the return of the 2 missing starters.
Monday night February 7th the Victor Basketball Team faced one of if not their toughest matchups of the year. Going into the game many favored Irondequoit in this matchup as Victor has been shaky as of late.
Even with the doubts and being an underdog Victor went into the game with no intentions of losing this matchup against a tough Irondequoit team.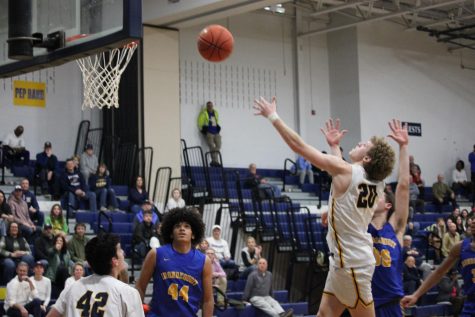 Starting the matchup Victor came out swinging as Griffen Hopkins opens the game with a nice mid-range fade putting Victor up to start. Irondequoit another high-powered offense went up on the Blue Devils but at the end of the first quarter, Victor won the first battle, the score standing at 20-14.
After a strong start from both teams, the offenses kept knocking down shots in the second quarter Garrett Clar knocking down shots beyond the arch and Nick Leonard constantly getting to the basket drawing fouls, and getting to the line.
Even with a strong offense, Irondequoit kept firing back as hitting from mid range for this team was little to no problem something that would keep the boys on their toes for the whole matchup. End of the half approaching Victor has maintained a lead for the majority of the game and the tides changed as Irondequoit knocked down a 3 at the buzzer giving them the lead 39-38.
Irondequoit came out of half and took control leading at the end of the 3rd 48-52 and a majority of the 4th quarter. Neither team was ever out of the matchup and it went down to the wire.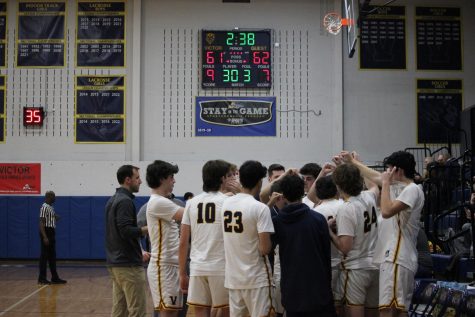 Victor was down by 1 with 27 seconds left in the game Griffen hits a driving layup to go up 1 with 18 seconds to go Irondequoit makes the biggest possible mistake as the in bounder steps inbounds before passing it turning the ball over.
From there Victor was able to control the game after knocking down all the free throws that were given to them. Victor held on with a crucial win 71-68.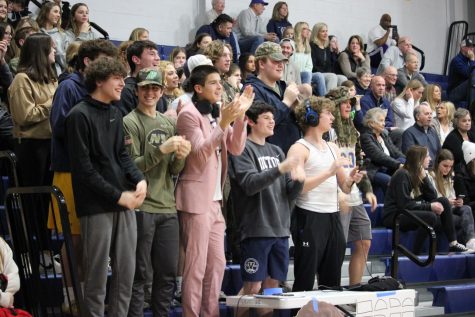 Garrett Clar led the team with 27 points 11 coming from the 4th quarter and Griffen Hopkins also had double-digit points standing at 18. With a hard-fought win, the boys set their sights on Fairport tomorrow away make sure you show up to support the boys.