Victor Basketball Takes a Win on Senior Night
Friday night, February 11th, the Victor Boys Varsity Basketball team took on Brighton. Senior Night was a time to recognize and celebrate the four seniors who are a part of the team. I had the opportunity to talk to all four seniors and ask them questions about going into tonight's game and what they have taken away from their experience being a part of the team.
As many students, staff, and parents know, tonight became more than a celebration of seniors with the controversy that has struck our district over the past week.
What you will read will not be talking about the controversy in the sense of what happened and what has gone down but more about what happened during that night and what these four seniors would like the school to read about their time as players on this team. I strongly recommend looking into and researching the controversy, as all four seniors talk about it during my interview with them.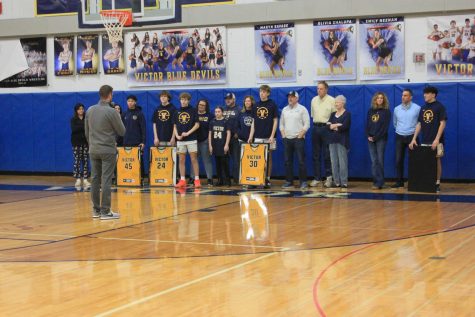 The night started with the ceremony to honor all the seniors: AJ Queri, Brennan Hopkins, Ryan Dodge, and Tristin Lopez. All four seniors celebrated with their families and coaches before the game started. The ceremony concluded with Coach Roberts taking the mic and talking about his experience with the seniors and how proud he is of these individuals. The boys then proceeded to warm up like any other game.
After the playing of the national anthem, the whole team gathered in a huddle right in front of the student section. In response to the topic at hand, Coach Roberts had a quick 20-second speech where he told the student section, "We love you guys, we appreciate you guys coming, thank you for coming and supporting our team, and everything from this point forward needs to be respectful towards officials and opponents, this is basketball, and we need you guys going forward."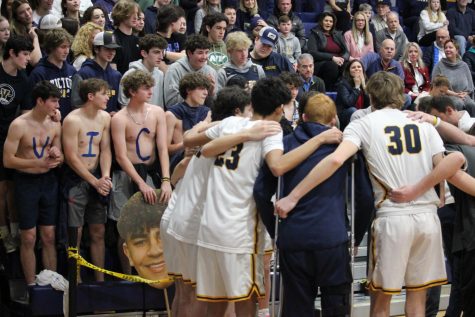 After the game, I asked the four about how the team handled the situation going into tonight. AJ told me, "Coach Roberts and the team handled it very maturely." He then went on to say, "The day after the incident, we all gathered together as a team and said our thoughts on the situation and agreed to control the controllable." All the students mentioned how all they could do was "play the game and focus on our main goal." Tristin told me, "What Coach Roberts did tonight was very mature, and I am glad he pointed out the elephant in the room." Ryan added, "We need to focus on being even more respectful to the refs and players."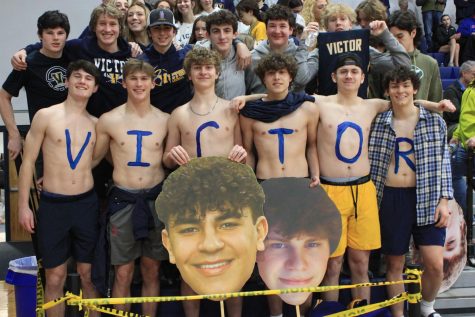 I gave all four students a chance to create their own message they would like to put out, and multiple of them talked about the relationship between the team and the student section. Brennan told me "that I would like to back the student section, all those guys, we couldn't do it without them, they are the real 6th man." AJ said, "I am best friends with all those kids in the student section, and games would almost feel empty without them." He says he's "definitely happy to see them on the sidelines cheering us on." Tristin added, "The team is the basket, and the student section is the net; you don't get us without them." Ryan wanted to "thank all of my teammates, I've been playing with most of them for my whole career, and we have done so many great things together. I love each and every one of them and will miss them and be very sad when this season is over."
Before I got into the gameplay, the last question I wanted these four individuals to be able to answer was,  "It is your final year on the basketball team; what will you take away from your experience with basketball?
After I asked AJ, he said, "I've played basketball since I was born and have grown up with this team. This team has given me many memories that will last longer than I could imagine. Although every day is a grind I will definitely miss the competitiveness on the court and the team that surrounded me."
Brennan was the next person to respond as he responded saying, "The bonds I made with every single one of these players will be my brother for life, I learned a lot of life skills like how to respond to adversity and putting in hard work to achieve your goals."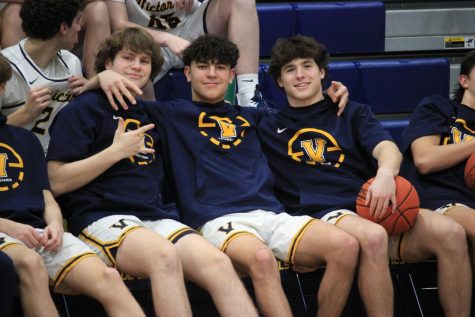 Tristin talked about the brotherhood they've built: "Together. It being my first and last year on the team I have now realized what that word means and why we brand it. Our team is a pack of brothers we're not just teammates, it's deeper than that but no matter what we always stick together."
The last senior to comment was Ryan who told me "Basketball has created so many memories and life lessons during my career, but my biggest takeaway was being able to handle adversity, last year did not end how we wanted it to but all we can focus on is to get 1% better every day so we can reach our goal."
Now onto the game itself. Victor, who is currently and clinched the #1 seed as 2023 Leauge Champions of Monroe Division I, played Brighton who can't take over the one spot but currently sits at #2. Brighton was one of the better teams Victor faced all year long and it was a tough battle from start to finish.
The first quarter only had a total of 17 points scored by both teams combined with Victor leading 11-6. Both sides stuck to playing good defense throughout the first half with very few points let up. Big names like Nick Leonard weren't at the line as much and the 3 ball was not a big factor for shooters like Garret Clar. The score at half stood at Victor winning 17-12.
The second half picked up for both teams as the 3pt attempts seemed to pick up as AJ and Garrett both became lethal both knocking down shots with ease. At the end of the third quarter, Victor maintained their lead 37-30. Victor was able to stay on top throughout the whole matchup and nothing changed in the 4th quarter. Victor started up 7 going into the 4th and Brighton was never able to catch up. Shots were going down and all it came down to was making free throws to secure the game, which they did, winning Victor the game, 58-50.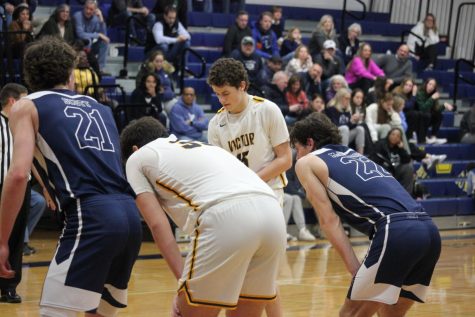 The final game of the regular season was this Tuesday where they beat Rush Henrietta and will head into sectionals top of the bracket. The first game of sectionals will be on February 24th, make sure you pack the den!