The Boys Basketball Team is Finals Bound!
Tuesday, February 29th was ride or die for the Victor Varsity Boy's Basketball team. This game was the biggest test up to this point and would determine if they would go to the Section V championship game. Victor has had a fantastic season up to this point sitting with a record of 18-2.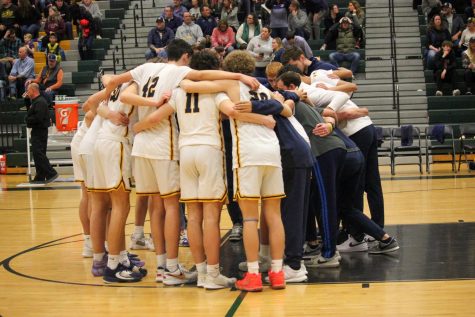 Victor played Webster Schroeder, a team they faced previously in the season and blew them out 67-41. Even though Victor was going into this game as the favorite, the sectional atmosphere is a different animal. Upsets have been the story of this year's tournament with the likes of Edison Tech (10) beating Franklin (2) and Fairport (6) beating Brighton (3).
Section V hosted both Semi Finals games at the same time and would determine who the winner of this matchup would play it. The other matchup was held at Gates High School and was between Fairport (6) and Edison Tech (10).
Victor is the top seed in the conference and was able to host their first game against Mcquaid in a close matchup where Victor was able to come away with a win, 51-44. The Semi-Finals and Finals are held at a neutral site so Victor and Webster Schroeder traveled to Rush Henrietta for their matchup late Tuesday night. Fortunately for Victor, this was the loudest student section yet and students showed out for their team.
The game started with a knockdown three from Junior Garrett Clar and the game was on. Webster Schroeder responded with a pair of free throws, only one of them going in. The first quarter started off fast as the intensity settled in for both teams. Victor led 14-11 to start the game.
The second quarter started with a Schroeder 3, tying the game at 14 a piece. Cam Ryan was fouled and knocked down both of his free throws giving Victor the lead after scoring six unanswered points, leaving the score 20-14. The game proceeded with a couple of minutes left at half, the game was leaning in Victor's direction as they were able to go into halftime after Ryan Dodge hit a buzzer-beater 3 to end the half with a 14-point lead. Victor up 31-17.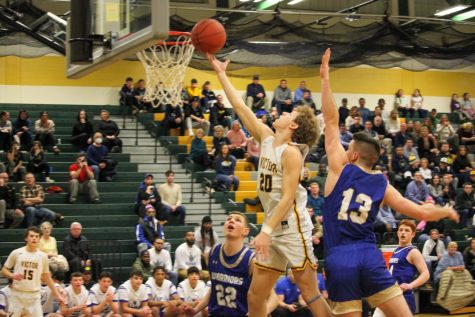 Coming out of half Victor knew they couldn't get carried away no matter how big their lead was. The third quarter kicked off with Schroeder knocking down a 3 gaining momentum and were able to come within 5 points with a 1:57 left in the quarter. Even though the momentum was shifting, Victor didn't let it get to their heads. Once again, the Blue Devils hit a buzzer-beater, this time Cam Ryan, putting them up 44-36 at the end of the third.
The fourth quarter once again was controlled by Victor as they maintained the double digit lead throughout a majority of the period. Unfortunately for Webster Schroeder they were never able to battle back and Victor won 66-51. The boys will advance to the finals against Fairport this Saturday night at 9PM at Blue Cross Arena. See you there!