Return to the Mound: Victor Baseball Kicks Off Their Season
The first pitch for the Victor Baseball 2023 season is right around the corner. After falling short in the Sectional Finals last year, the Blue Devils are looking to win it all this time.
Last season, Victor didn't start off as they hoped, falling to a record of 5-7 to start the first half of the year.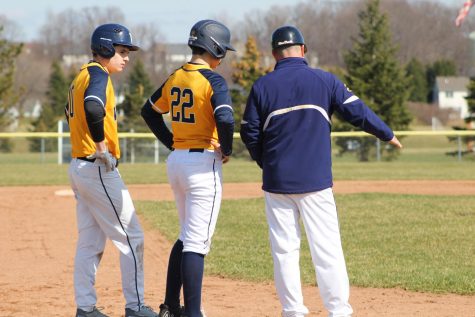 "Obviously the first half of our season and second half were completely different. The record mostly speaks for itself but deeper down, our team chemistry really allowed that record to happen. After falling to 5-7 we had a team meeting talking about people's attitudes, behavior and treatment of other teammates. After that talk, everyone brought into more of a team first mindset and our season took off from there,"  said senior captain Cooper Loyal.
They quickly fixed their mistakes in the second half of the season. They only lost one game to finish, ending with an 8-1 record. 
Coming into the postseason, Victor ended up being the 5th seed and beat Edison Tech and Fairport to dance to the finals. They would end up facing McQuaid in the sectional final where they would lose 2-1. 
"We learned from our mistakes and started to win the close games we were losing at the beginning of the year. Always tough to lose in the finals, but it humbles you and makes you work hard to build your returning team," said Coach Rucker.
Despite the graduation of several seniors last season, the team is hopeful to make a sectional run.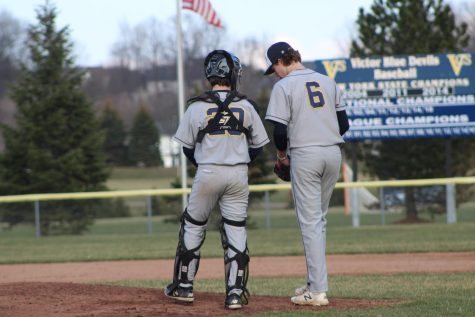 Senior Carter Fink says, "It's tough because those are our friends we go into battle with. And spent all our time together last year but we have some new juniors coming in and got to focus on what's ahead."
Returning players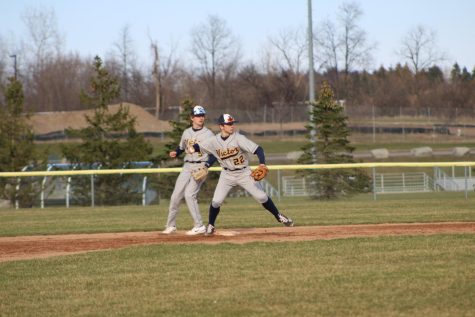 Senior (Pitcher/Second Base) Carter Fink is currently committed to Niagara University. He Finished the season with a record of 5-3 while pitching. Carter's (2.89) ERA one of the best on the team and he accrued (67) strikeouts. The Victor ace wasn't just a great pitcher but also a great hitter with a batting average of (.333), tallying 13 runs, 24 hits, 15 RBIs and (28) total bases. He was also awarded Monroe County Division 1 All-County First Team, First Team All-Greater Rochester, and the Victor Baseball Team MVP Award.
Senior (Shortstop) Cooper Loyal, is committed to Albany. Loyal came on strong in the 2022 season. He was first on the team with a .394 batting average marking 21 runs, 26 hits, 8 RBIs, a .551 OBP and 33 total bases. He was awarded Monroe County Division 1 All-County First Team and All-Greater Rochester Honorable Mention.
Other players include: Coz Zeiser (.294 BA, .529 OBG, 5 H), Tyler Pero (.286 BA, .375 OBG, 2H), Weston Elkovitch (.238 BA, .273 OBG, 15 H, 1 HR), Parker Zeiser (.300 BA, .333 OBG, 3 H), Timmy Buck (.250 BA, .250 OBG, 2 H), and Liam Eshelman (.333 BA, .333 OBG, 1 H).
Upcoming players
Victor Baseball will be bringing up a load of former Junior Varsity players as they expect to play major roles on the team: Adam Ruffalo, Mitchell Schalberg, Jameson Ricigliano, Drew Stagnitto, Grady Kessler, Chris Swackhamer, Nate Power, James Murray.
"There are many starting spots that need to be filled with consistent defensive play and offensive production. Many of our players can play multiple positions, so the guys that can perform under pressure will be the starters," said Coach Rucker.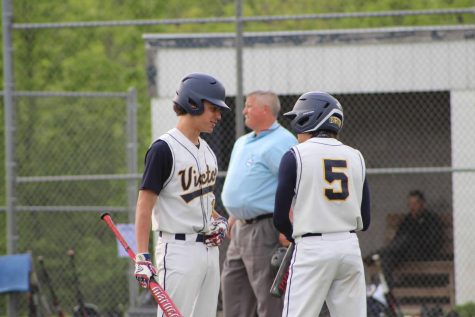 "Our opening game in Myrtle Beach on 4/4 at the Ripken Experience against Franklin-Simpson HS from Kentucky is the big game marked on our schedule. After 3 games against Kentucky teams we open a tough league schedule starting with Penfield," said Coach Rucker.
Come support the boys this season as they look to bring home a block!