Victor wins first-ever Boys Basketball State Championship
For the first time ever Victor can add a new trophy to its collection as the Boy's Basketball team tops Section 1 Champs North Rockland this past Saturday in the New York State Public High School Athletic Association(NYSPHSAA) Class AA championship game, March 20th with a score of 56-38. After 45 years since their last sectional title, they can add a state title.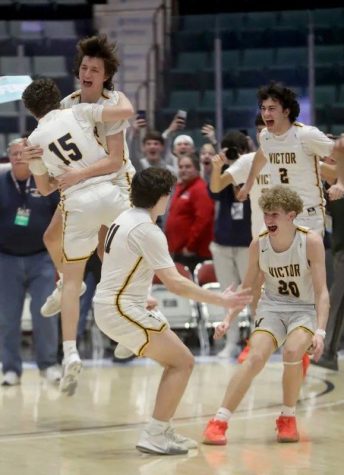 Sophomore Griffen Hopkins once again was a walking highlight reel as he lead the team with 15 points 5 rebounds and 4 assists, shooting 5-10 from the field and 5-7 from the line. Along with Junior Garrett Clar right behind him with 12 points and 5 rebounds going 6 for 6 at the line. Junior Nick Leonard had 9 points making two 3's. Senior AJ Queri coming off the bench shot 3-7 from beyond the arch. Last but not least Junior Cam Ryan scored 9 points as well and shot 4-7.
It was a defensive showing as neither team shot the ball well score being only 24-14 at the end of the first half. North Rockland went 6-29 and 0-9. The 2nd half was no different Victor was able to take down North Rockland 56-38 as they only connect on 15-49 shots taken.
Victor has shown that defenses win championships game after game, holding teams like Brentwood to 41 and North Rockland to 38. Throughout their sectional and state-run not a single team put up 6o points against Victor.
Some of the best plays of the game come from none other than Griffen Hopkins. The first quarter with a steal going coast to coast on a fastbreak layup. An impressive assist came with a no-look pass to brother senior Brennan Hopkins. The MVP of the game went to Junior Nick Leonard and All-Tournament Player was Junior Garrett Clar.
The team can move past another successful feat and look to the biggest test in program history as they will play in the Federation tournament as massive underdogs as the NYSPHSSA and will play the New York State Association of Independent Schools. Victor takes on the 3rd ranked high school in the country, Long Island Lutheran, Saturday 11 AM at Shaker High School.