A Dive into Diversity at Victor
The Diversity, Equity, and Inclusion (DEI) committee at Victor is a relatively new initiative at the district level. Victor's sudden shift towards DEI began with the 2022-2027 Strategic Plan. Specifically, Task 55 of the Culture section states, "Create a Diversity, Equity, & Inclusion multi-year plan."
The strategic planning committee created a new committee and an application process for what is now known as the DEI committee. This committee includes students, community members, administrators, parents, and teachers from all over the district. Ms. Boyle, a teacher in the primary school and a steering committee leader, summarizes the purpose of the committee as "making recommendations for the superintendent for the DEI action plan."
At each meeting, committee members tackle a series of tasks that have been prepared by the strategic plan in sessions planned by the smaller steering committee. As a member of the steering committee, I want to break down what goes on in one of these meetings by detailing the events of the May 22nd session.
The meeting began with a focus on solidifying the recommendations made on the previous tasks.  Members were asked to prioritize two recommendations, to better gauge the focus of the committee. Task 54, for instance, centered around learning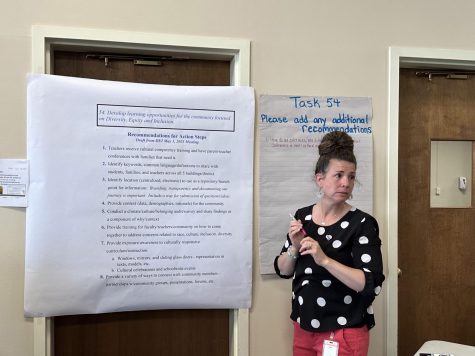 opportunities. As a result, members chose the most important recommendations for the development of learning opportunities relating to DEI. As Ms. Boyle said, "If you have three top priorities, you have no priorities."
Today's objectives were to make recommendations for the Superintendent of Schools on the following tasks: 
56: Analyze Board of Education policies (including the Code of Conduct) to ensure alignment with Diversity, Equity, and Inclusion initiatives 

57: Review disciplinary/response data to identify trend patterns in relation to diverse populations, including students with disabilities 

58: Introduce restorative practices in all buildings 
Members were all assigned one of the tasks and then asked to analyze a research folder with their task in mind for 15 minutes.  The research folder contained materials related to the task. For example, I was assigned Task 58 and was given a physical folder that contained two Restorative Practices Implementation guides and a portion of the NYSED rubric for Culturally Responsive education. The San Francisco Unified School District explained restorative practices as "principles and processes that emphasize the importance of positive relationships as central to building community and restoring relationships when harm has occurred."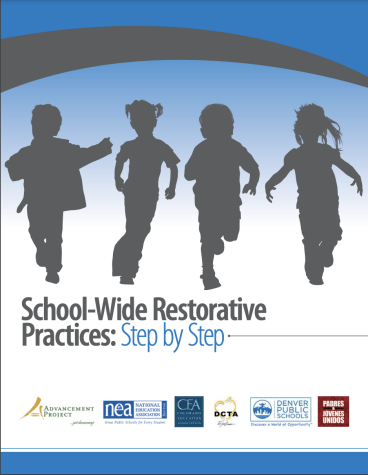 After finishing the 15-minute reading period, members met with their assigned groups and shared their findings to form a list of recommendations. Since there were two groups for each task, there were many independent perspectives in each group  which allowed for a cohesive list of recommendations for all three tasks. For instance, since Task 58 was concerned with introducing restorative practices, our recommendations included that the district emphasizes teacher buy-in before rushing to implement any specific plans and that the district should create a formal restorative practices position.
After another 15-minute period, discussion was opened to the entire committee and a formal combined list of recommendations for each task was made. With this process, the committee is likely to be able to reach the time constraints set by the Strategic Plan while achieving its original goals.
At the end of the meeting, I asked Ms. Boyle about  the overall vision of the committee: "The future is to strengthen relationships for all and create a home for all."  The individuals on the committee are a dedicated group of people who genuinely care about the Victor cultural landscape, and the work of this committee is certainly something to watch as they finalize the DEI action plan.
Leave a Comment