Victor Softball Defeats Hilton 13-0 in their First Round of Sectionals
On Monday, May 23rd, the Victor Softball team hosted their first round of sectionals and their last home game against the Hilton Cadets and had an astounding 14-0 win. The calm night with a lack of wind allowed for, "easier tracking of balls on the outfield, but a definite need for sunglasses with the strong sunset," according to Marion Naple. 
The leadoff hitter, Mekenna Hobson, was the starting catcher for the game, followed by Audrey Steinorth, Renee Carnevale, playing shortstop. Center Fielder Carrie Sidare, and second baseman, Kendra Tantillo batted in the cleanup position. The rest of the lineup featured Kylie Bickert, Ryleigh Fontana, Olivia Steinorth (also the pitcher), and Marion Naple. As the game progressed, Victor adjusted some of their field positioning. 
The Victor softball team has proven that great strategy leads to incredible stats. Hilton is placed 9th overall in the Class AA League with an overall 1-8 win to loss record, while Victor is ranked #1 and has a 9-3 win to loss record. Carrie Sidare gave Victor an initial boost when she doubled on a 1-1 count and scored three runs, all in the first inning. Their exceptional winning pitcher, Olivia Steinorth, went seven innings, and for three hits, allowed zero runs. She then struck out 13. 
It is an emotionally driven time for this team, especially the seniors, since any game now could be their last. When asked about this, Renee Carnevale answered that she stays grounded by giving it her all on the field, so if it does happen to be their last game, there will be no regrets. She used this emotional time as more of a motivation, saying that, "Letting yourself know that it's normal to be sad this is ending, but it's exciting to begin a new chapter." 
Mekenna Hobson has a similar approach to dealing with her emotions, stating that she tries to keep everything fun because, "the last thing you want for your last game is remembering that you were either hot headed or mad because that's not a good way to spend it." Marion Naple added that her team "works hard to build the relationships within our team off the field so that we can be cohesive during game time." 
Victor athletics has proven to be more than just an extra-curricular activity for students. While there's a great passion for the sports they play, the team building and unity allows for tremendous winning statistics and a greater journey towards sectionals.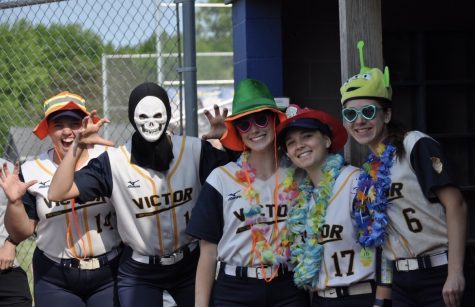 PC: Priscilla Jedrich
Leave a Comment