The Beloved Mrs. Blanchette
In her recent interview with The Victor Voice, Mrs. Blanchette answered these questions with many answers that you may not have known about her. When asked about her time at and before Victor, here is what she answered with!
Mrs. Blanchette has been working as a teacher in general for 12 years and has been working at Victor for two of those years. This year is Mrs. Blanchette's second year working at Victor.
This year is Mrs. Blanchette's first year with her own room, as with most teachers new to the school she had to push a cart with all of her materials and resources around from room to room all year last year.
Before coming here to Victor, Mrs. Blanchette started working as a teacher at Penfield. But before she started teaching as a geometry teacher she attempted teaching others American Sign Language, but she wasn't the biggest fan of it. However she still has ASL learning graphics in her room. Like the ASL alphabet and numbers. 
While working at Victor Mrs. Blanchette grew close with many of the other teachers in the math department. For example; Mrs. Harris, Mrs. Mandell, and Mrs. Merges. They have helped her with the slight change in teaching from how it was at Pennfield.
Mrs. Blanchette has said she wants all of her students to succeed in life, so she suggests that they stay after school if they need help with something they are struggling with so that she can help them.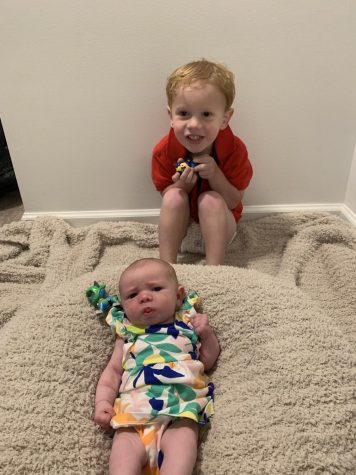 Mrs. Blanchette missed the first week of school this year because she was on maternity leave. She had a beautiful little girl, and also has a three year old son. 
Growing up Mrs. Blanchette was inspired to become a teacher by her 3rd and 4th-grade English teacher, she even still has a book from that teacher.
When not in school Mrs. Blanchette likes to spend her time outside, especially in the summer. She also greatly enjoys spending her time with her family.
Leave a Comment